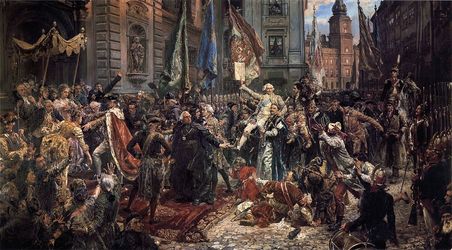 Polish Constitution Day Celebration
May 3, 2017, 6:30 pm
St. Valentine's Polish National Catholic Church, Community Room
127 King Street
Northampton, MA

Polish National Constitution Day Observance The 3rd of May, 1791 is celebrated as a most important National Holiday in Poland because it marks the declaration of one of the first National Constitutions designed to supplant the long-standing anarchy of the ruling classes with a more democratic constitutional monarchy.
This was a progressive document for its time and served as a model for many countries in the nineteenth century wave of democratic reform that swept throughout Europe.
​
The Polish Heritage Committee of Northampton will observe Polish Constitution Day on Wednesday, May 3, 2017 at 6:30 p.m. in the community room at St. Valentine's Polish National Catholic Church, 127 King Street, Northampton. We will screen the film Why celebrate May 3, 1791 "Europe`s First Constitution"? – presentation by Professor Richard Butterwick-Pawlikowski and serve light refreshments. The community is invited to join us for this admission free event (and to bring a friend).


---
Photos from Polish Events Around Massachusetts
Do you have photos from an event you'd like to share? Please send them to us and well post them. Let's keep our Polish heritage alive!

Boston Polish Festival 2016

Polish Festival, Boston, MA - Spring 2015

Our Lady of Czestochowa Harvest Festival, South Boston, MA - 2013

Clinton, MA Polish Festival 2016

Our Lady of Czestochowa Harvest Festival 2016

Pulaski Day Parade, Northampton, MA - 2006